Buying a house in Eindhoven
Buying a house in Eindhoven
Where to live in Eindhoven and how to buy a house at the local housing market?
Mortgage in Eindhoven?
Eindhoven, also known as the expat capital in the south of the Netherlands, is very popular amongst internationals to purchase a house. Buying a house in Eindhoven increases your living comfort and will save you money on expensive rental costs. However, when you don't know your way around Eindhoven, it can be hard to choose the best location to buy a house. And once you'll know where you want to live, you have to actually purchase a house, which is quite a challenge at the local housing market. Don't worry, there's no need to stress! We'll give you an overview of the neighbourhoods and tell you how you succeed in buying a house in Eindhoven.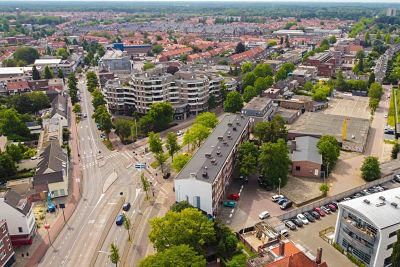 Determine your budget to buy a house
Before you start your house hunt to purchase a house in Eindhoven, it's best to determine your budget first. Find out what your Dutch mortgage options are. How much can you borrow? And how much do you want to spend on a property? 
We're happy to give you tailored advice! Our mortgage advisors in Eindhoven are very experienced when it comes to helping expats. If you want a personal calculation or advice about the house buying process, please book a free appointment with one of our mortgage experts. Determining your budget is an important step in the house buying process and will help you pick the right location to buy your house in Eindhoven.

Prepare yourself for the housing market in Eindhoven
There are many people who want to buy a house in Eindhoven and there's a shortage of affordable houses. So far the coronavirus has had little to no impact on the housing market. This makes house hunting in Eindhoven a complicated process, especially as an expat. 
You can find houses for sale in Eindhoven via house hunting websites like Funda, Jaap and HuizenZoeker. To improve your chances at purchasing a home you can best seek help from a local real estate agent. For more tips and information about buying a house in Eindhoven, feel free to sign up for our 'how to buy a house' webinar. This gives you detailed information about all the steps of buying and financing a house, including legal, notarial and tax issues. 
Buying a house in Eindhoven
Eindhoven is a popular city to live in. Until the arrival of Philips in the late 19th century, Eindhoven was mainly a collection of villages. Due to Philips powerful influence, Eindhoven nowadays is the fifth largest city in the Netherlands, also known as the City of Light. And because of Philips and the other high tech companies it attracted, Eindhoven is a major technology hub, with lots of multinationals and a large community of expats. 
Eindhoven offers all big city amenities and is well connected to other cities in the Netherlands by both railway and highway network. It even has its own airport, which is very convenient as an expat. Despite the extensive infrastructure, it also has the highest percentage of green space among Dutch cities. This makes it a perfect city to live with your family.
Where to buy a house in Eindhoven (city)
When looking to buy a house in Eindhoven you can choose between a neighbourhood in the city or a town close by. Eindhoven itself offers a variety of areas to choose from, depending on your budget and lifestyle. 

Eindhoven centre: in central Eindhoven you can buy new, pricey apartments. There are lots of facilities close by, like the railway station, the airport, a shopping mall and dozens of restaurants. The international school is also located here. The centre of Eindhoven is popular amongst singles and childless couples.
North Eindhoven (Woensel): in this area you find new build apartments and houses with a wide price range. In the south of Woensel it's more affordable to buy a house and the west is an upcoming neighbourhood with restaurants and vintage stores.
South Eindhoven (Gestel and Stratum): this area is close to Eindhoven's centre and the Philips campus and International Primary are located here. This makes it popular with expat families of many ethnicities. It's a quiet, yet lively neighbourhood with a strong sense of community. You can buy houses in all kinds of price ranges, from modestly priced to luxury houses.
East Eindhoven (Tongelre): in the east of Eindhoven you live close to nature. This part of town is situated around the Karpendonkse Lake and the Eckhart Forest, which are great for recreation. The area offers a wide range of available houses to buy for different budgets.
West Eindhoven (Strijp-S, Strijp-R and Strijp-T): the Strijp area is known for its innovative atmosphere. Strijp-S is built upon the former Philips terrain with the conservation of industrial features. In Strijp-R and Strijp-T old factory buildings are transformed into shops and ateliers. This makes the Strijp area vibrant and bursting with creativity, a unique mix of living and working. Buying a house in this part of Eindhoven is possible within a wide range of budgets.
Buying a house in Eindhoven's surrounding towns
Eindhoven is a very compact city and nearby villages are easily reachable by bike or a short drive. Therefore most expats live in towns outside of the city. These are great places if you're looking for peace and quiet and also want to be able to cycle into Eindhoven. We'll give you a selection of the most popular villages for buying a house near Eindhoven.
Where to buy a house in Eindhoven area?
Nuenen: this town, northeast of Eindhoven, is the birthplace of Vincent van Gogh. It's a characteristic Dutch village and it's a popular area for expat families. Children are able to cycle into the international school. It has a characteristic older centre and there's a newer area with mid-priced houses. 
Veldhoven: situated so close to the southwest of Eindhoven, that it feels like you live in a suburb. It's a green and leafy place that's perfect for families. Veldhoven is larger than Nuenen and it has more amenities, like a large, new shopping centre and many restaurants. Most houses have been built in the past 30 years. They're available in a range of price bands, most of them are slightly smaller than the ones in Nuenen. 
Waalre: if your budget allows it and you like to live more rural, Waalre might be the place for you. This town is located south of Eindhoven and it's surrounded by large parts of forest. It has an old centre and you can easily reach Eindhoven from here. It offers larger houses with quite some land (for Dutch standards :)). This makes it popular amongst top executive expats who live with their families. 
Best: this village is just north of Eindhoven. It's a modern, well-planned town that's close to Eindhoven Airport. From Best Eindhoven is easily accessible and it's also well connected to other cities in the region. Buying a house in Best is affordable 
Son en Breugel: in these two villages, who form a municipality together, also live a lot of expats. There's a large area of forest around Son and there are several sports clubs. Buying a house in this area near Eindhoven can be quite expensive, but there are also more affordable houses available.
Buying your house in Eindhoven: let's get started!
To discover what's the right place for you to buy a house in Eindhoven area, you'll have to experience it yourself. So get on your bike and explore the different neighbourhoods and towns that Eindhoven has to offer.
And don't forget: prepare yourself well before you start your house hunt at the tight market of Eindhoven. This really improves your chances of an accepted offer on a house! We're happy to help you with your preparation. Sign up for our webinar about buying a house or book an appointment with one of our mortgage advisors. Free of charge and without obligation.