Hanno Mortgage Promise
Increases your chances at a lower purchase price
Request for free
The housing market is cooling down: there are more houses for sale and less potential buyers. Sellers receive fewer offers and overbidding isn't the norm anymore. This makes sellers willing to accept an offer below the asking price, especially if you put in an offer with attractive conditions.
Put in an offer with the Hanno Mortgage Promise
With the Hanno Mortgage Promise, our mortgage advisors declare the amount of your maximum mortgage based on your income, savings and financial obligations. It's often possible to bid with a short financial clause or without one. That gives sellers instant clarity about the sale of their house and they don't have to be in doubt until you'll have arranged your mortgage. That makes them open to accepting an offer below their asking price.

Know exactly how much you can borrow
Bid with a short or without a financial clause
Chance at a lower purchase price
Mortgage quickly arranged after purchase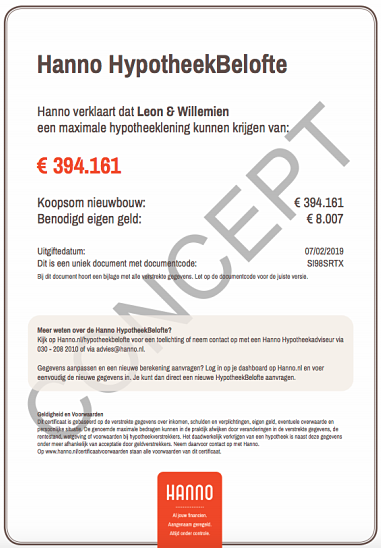 Why put in an offer with the Hanno Mortgage Promise?

√  Chance at a lower purchase price

√  Short or no financial clause

√  Mortgage quickly arranged
Buy a house with the Hanno Mortgage Promise
1. Budget: how much can you borrow?

A free appointment gives you instant clarity about your budget.


Call 030 - 208 2010

2. Bid with the Mortgage Promise

This gives you a chance at a lower purchuse price.


3. Offer accepted? Your financial plan

First we look at your financial situation, then at your mortgage.


4. Choose your mortgage lender

5. Mortgage secured, to the notary!

We fix the mortgage from A to Z, you sign the deed at the notary.
Happy customers
My friends told me it's almost impossible to purchase a property in Amsterdam. However, with the Mortgage Promise it only took me three months to buy my house.
We put in an offer on a house together with 12 competitors. Thanks to the Hanno Mortgage Promise we put in an offer without a financial clause which the seller couldn't resist.