How to get a mortgage in the Netherlands?
How to get a mortgage in the Netherlands?
Getting a Dutch mortgage as an expat.
To 'expat mortgages'
When you're thinking about buying a Dutch house, the first thing you should do is check if you're eligible for a mortgage in the Netherlands. Applying for a Dutch mortgage can be a confusing process, since the rules are quite complicated and almost all the information is in Dutch. How does a Dutch mortgage work and what are the special requirements for expats? In this article you can find general information about mortgages in the Netherlands.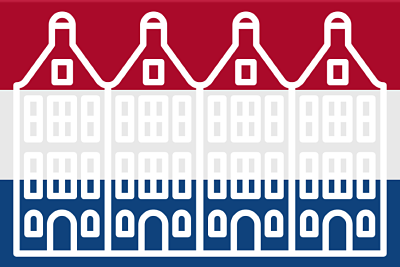 An expat mortgage in the Netherlands
When you apply for a mortgage in the Netherlands as an expat, you get the same mortgage as Dutch natives. To apply for a Dutch mortgage you have to live in the Netherlands. Your work can be located abroad, but your salary has to be in euros. A Dutch mortgage lender won't give you a mortgage when you get paid in a foreign currency. 
Special conditions for expats
Although there's no such thing as a special expat mortgage in the Netherlands, you do have to meet some extra conditions:
You need to have a BSN (citizen service number)
When you're not an EU/EEA citizen, you need a residence permit
You live in the Netherlands (in general you can get an expat mortgage when you arrive, but some banks require that you have lived in Holland at least six months up to five years)
If you have a partner he or she has to live in the Netherlands too, even if you want to buy the house on just your own salary
Other conditions might apply to you, depending from your country of origin.
Get a mortgage with a permanent or temporary contract
It's easiest to apply for a mortgage in the Netherlands with a permanent contract. If you have a temporary contract or work for a university as a PhD student or researcher, you can only get a Dutch mortgage if you're employer states that your position will become permanent. 
Dutch mortgage for self-employed expats
As an expat you can also get a Dutch mortgage when you're self-employed, but it's more difficult. You need at least three years of income history. The mortgage lender will use your net profit to calculate your maximum mortgage. If your profits are increasing, they'll use the average net profit. If your profits are decreasing, the lower figure will count for your Dutch mortgage calculation. 
Maximum mortgage value in the Netherlands
How much you can borrow to buy a house in the Netherlands depends on your income and the market value of your house. You can get a mortgage up to 100% of the value of your house.
Be aware that your maximum mortgage can never be higher than the market value of your house, no matter the purchase price.
Calculation example
Mortgage by income: € 370.000
Purchase price: € 360.000
Market value: € 350.000
Maximum mortgage: € 350.000
Purchasing cost to buy a house
Although you can get a mortgage of 100% of the market value, you can't buy a house in the Netherlands with just a mortgage. You also need savings. As a buyer you'll have to pay all the costs related to the transfer of the house. In general, these purchasing and financing costs are about 3 - 6% of the purchase price of your new home and you have to pay them out of your own pocket. 
Purchasing costs in the Netherlands
Property transfer tax: you pay the government a 2% tax of the purchase price. However, there's an exemption for first time buyers aged 18 - 35 when the purchase price is under 400,000 euros. If you buy with a partner and only one of you is aged 18 - 35, the rule applies to his/her share of the house. Investors have to pay a property transfer tax of 8%.
Notary fee: for the mortgage contract and the transfer contract, about € 1,000.
Mortgage advice fee: you get a Hanno mortgage advice for a competitive price starting from € 2,195.
Appraisal or valuation costs: you need an appraisal report for your mortgage. This is about € 500.
Real estate agent (if applicable):  if you hire a broker to buy a house, you'll pay € 2,500 - 3,500.
Structural survey (if applicable): if you want to check the condition of the house, you can get a technical survey. This is about € 500. 
National Mortgage Guarantee or NHG (if applicable): if you get an NHG mortgage in 2023, you'll pay a fee of 0,6% of your total mortgage. 
Bank guarantee (if applicable): about 1% of the amount of the guarantee
Purchasing costs and tax deduction
All costs for services that are mandatory when buying a house in the Netherlands are tax deductible. For instance, your appraisal report, notary deeds and mortgage advice. Costs for services that are optional, such as hiring a real estate agent or getting a structural survey, aren't tax deductible. 
Deposit or bank guarantee
In the Netherlands your mortgage lender doesn't require you to make a deposit. However, you do have to pay a pre-sale agreement deposit to the seller after you've signed the preliminary purchase agreement. In general, this is 10% of the purchase price of your new property. You can pay this deposit with your own money or get a bank guarantee. 
National Mortgage Guarantee (NHG)
In the Netherlands you can get a mortgage with NHG: national mortgage guarantee. This is a governmental guarantee repayment system for smaller mortgages. If you can't repay your mortgage due to inability to work, unemployment or divorce, NHG will ensure repayment to your mortgage lender. 
Because of this safety net mortgage lenders offer you a lower interest rate. In 2023 you can get a Dutch mortgage with national mortgage guarantee up to a purchase price of 405.000 and pay NHG a fee of 0,6% of your mortgage amount. 
Buy a house to let in the Netherlands
You can't get a standard mortgage in the Netherlands to rent out your house. Not even if you move abroad. If you want to buy a home to let, you can get a special buy-to-let-mortgage. These mortgages have higher interest rates and are not tax-deductible. 
Mortgage types in the Netherlands
When you buy your first house in the Netherlands you can choose between annuity mortgages and linear mortgages. Both mortgages types are eligible for tax-deduction on mortgage interest and have to be paid off in a 30-year mortgage term. 
An
annuity mortgage
has fixed payments as long as your fixed interest period lasts, consisting of interest and loan repayment. In the beginning you pay a great deal of interest and a small deal of loan. As your debt decreases over time, you repay less interest and more loan. Due to tax-deduction on your (decreasing) mortgage interest, your monthly net payment increases.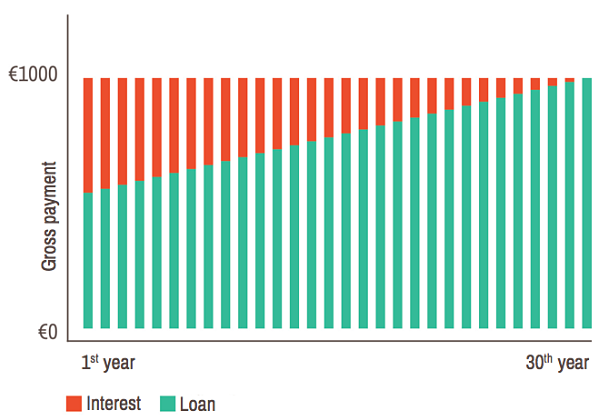 With a linear mortgage you repay the same amount of loan every month, and the amount of interest you pay decreases monthly. The monthly payments of a linear mortgage are higher in the beginning, but in total (in the complete 30-year term) you pay less interest. This mortgage type is interesting if you're not (fully) eligible for tax-deduction.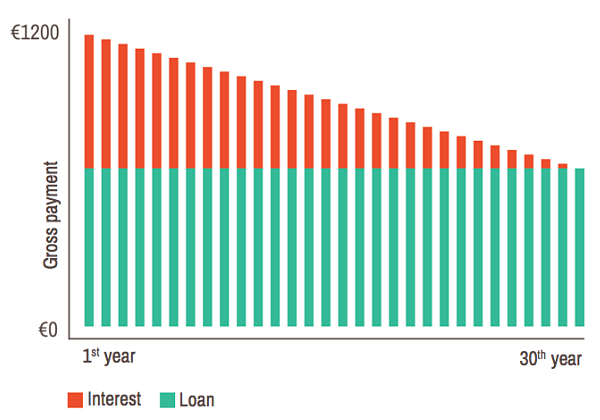 Fixed or variable interest rate
Another important part of your mortgage in the Netherlands is the mortgage interest rate. You can choose between fixed interest rates and a variable interest rate. Both types of mortgage interests have pros and cons.
A fixed interest rate is generally higher, but you're sure about the amount of your (monthly) mortgage costs. If you choose a fixed interest rate of 10 or 20 years, your interest rate will stay the same all these years.
A variable interest rate is lower and often allows you to make unlimited additional payments. Your home loan repayments will rise and drop together with the interest rates. Only choose a variable mortgage interest rate if you're willing to deal with this uncertainty and are able to pay higher monthly payments. 

Paying off your Dutch mortgage
A mortgage in the Netherlands has to be paid off in a maximum of 30 years, and your monthly payment schedule is set up accordingly. With most mortgage lenders you can make a yearly extra repayment up to 10-20% of your total mortgage loan. If you repay a bigger amount, you might have to pay a fine.
Tax relief for your mortgage in the Netherlands
In the Netherlands the mortgage interest that you pay your lender is tax-deductible for annuity and linear mortgages, IF you live in the property yourself. If you also own a home in another country or work abroad, you might not be eligible for tax relief. Because of tax deduction your taxable income decreases and do you have to pay less income tax. This can reduce your gross monthly mortgage cost by more than a third. 
Get yourself a house ánd a mortgage in the Netherlands
Read more about Dutch mortgages