Buying a house in the Netherlands in 10 steps:
Buying a house in the Netherlands in 10 steps:
the ultimate home buying roadmap
To 'expat mortgages'
Are you thinking about buying a house in the Netherlands? Buying a Dutch house as an expat might seem challenging to you. It can be a complicated and stressful process, that probably differs from what you're used to at home. And what's going on at the housing market in the Netherlands? Don't worry, buying a house doesn't have to be (too) complicated. In this article we'll walk you through 10 important steps of buying a house in the Netherlands and explain the whole house buying process clearly.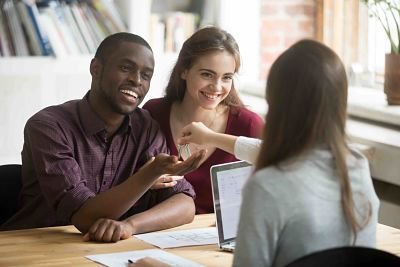 Step 1: set your budget to buying a house
If you're thinking about buying a house in the Netherlands, the first step is to set your budget and explore your Dutch mortgage options. What is the maximum mortgage you can borrow? How much do you want to spend on a property? It's important to keep your house affordable so you can still enjoy life. 
You can calculate your mortgage online for a rough indication. For a personal mortgage calculation and a tailored financial advice you can make a free appointment with one of our mortgage advisors. After this appointment you'll have a clear overview of your maximum Dutch mortgage and your monthly costs. So you'll know in which price-range to look for a house and avoid buying a home that you can't afford. 

Step 2: determine your housing wishes
You now know your budget to buy a home in Holland, what's next? Before you start your hunt to buy a house in Amsterdam, Utrecht, Eindhoven, The Hague or any other location in the Netherlands, you should determine your priorities. What do you really want and need in a home?
The most important demands for your new house in the Netherlands are location, size and kind of property. Do you want to live in a city or village? In which neighbourhood? How much bedrooms do you need? Make a written list of the requirements that are non-negotiable and the nice-to-have features for your Dutch house. This will give you something to hold onto during your house hunt. 

Step 3: hire a real estate agent
Buying a house in the Netherlands with or without a real estate agent? It's possible to buy a home without a realtor, but it's wise to purchase a house with a realtor. There are many reasons why you should hire one. A real estate agent will represent you in the house buying process. He or she can help you find the right house, set up home viewings on your behalf, turn in the offer on the home you want to purchase and negotiate on the best price.
Yes, you can research online and do everything yourself. But an estate agent will give you a much better shot at actually buying a house in the Netherlands. A realtor has knowledge of the (local) housing market and knows first which houses will go on sale. Even before they're listed on Dutch housing websites.

Also important, a real estage agent will give you a stronger negotiating position, because the selling agent will take you more seriously. A real estate agent is also an expert in negotiation and will prevent you from paying an unnecessary high purchase price.

Shopping for a house in the Netherlands is the fun part. You can browse on websites like Funda, Jumba or Jaap to find out which houses are for sale. Since you already determined your budget for buying a house, you know which houses you can and cannot afford. 
Have you found the perfect Dutch house? Then it's time for a home viewing! Bring someone along: your real estate agent, partner or a friend. And make sure to ask questions! Under Dutch law, a seller has a duty to inform and the buyer has a duty to investigate. 
This means that when you're buying a property in the Netherlands, you'll have to gather information about the house you want to buy. For instance about the condition of the house and the obligations attached to the house. To make sure you ask the right questions, you can download a house viewing checklist. 
Step 5: put in an offer on a house
Once you've found the house you want to buy, it's time to place a bid. This is by far the most nerve-racking part of the home buying process in the Netherlands.
First you have to craft your offer on a house. And don't forget: the listing price is only a starting point. The actual value of the property can be below or above the listing price, depending on the sales strategy of the selling broker. Your own estate agent will help you to make a fair and complete offer for your dream house.

Be aware that a bid on a house is more than just a price. The cancellation clauses you include are almost as important, like the financing clause and the structural inspection. When you're buying a house in the Netherlands, these clauses are your safety net to cancel the purchase agreement without penalties. Yet the more clauses you include in your offer, the less attractive it gets for the seller. 

Step 6: negotiate the house price like a pro
When you're buying a house in the Netherlands, what happens after you make an offer? The seller can accept your bid, reject it or make a counteroffer. Your first offer probably won't be accepted right away. Only after you've received a counteroffer, the negotiations on the home price have begun. Not before! The back and forth on the purchase offer between you and the seller usually lasts one to three (stressful) days. 
However, if the house you want to buy is populair and there are multiple buyers, the house buying process can turn into a bidding war. Although nobody wants to end up in one, it's perfectly possible to win a bidding war. As long as you have a good estate agent and are well prepared (f.i. because you followed our 'how to buy a house' webinar for expats). Keep calm and don't get carried away!

Step 7: sign the preliminary purchase agreement
Your offer has been accepted, congratulations! Now i's time to draw up the preliminary purchase agreement, because the agreement you made with the seller is only binding after both of you signed a purchase agreement. Until then te seller can pull back and sell the house to someone else. 
After you signed the purchase agreement the seller can no longer pull back. As a buyer however you have a three day cooling-off period to consider and cancel the agreement of buying the house without reason or cost. 

Please beware that a preliminary purchase agreement - after a three day cooling-off period -  is binding in the Netherlands. Therefore make sure all the terms and conditions of your offer on the house are put in properly. When you're in doubt, don't sign the contract, but check with your real estate agent or mortgage advisor. 
Step 8: apply for a Dutch mortgage
As soon as your bid has been accepted you should also start the mortgage process. In Holland you cannot get pre-approved by a mortgage lender before you have an accepted offer.

As an expat you'll apply for the same mortgage as Dutch natives. There is no such thing as an expat mortgage with special conditions. Make sure to get a mortgage broker who works independent and compares multiple mortgage lenders, like Hanno. This way you're sure you'll get the best mortgages, with the lowest interest rate and suiting conditions for your situation. 

When buying a home in the Netherlands, you'll have to get the property appraised. Your mortgage lender needs to see an appraisal report before they'll approve your mortgage. Hanno can help you find a good appraiser.. 
Step 9: get your house insurances
Once this precious Dutch house is yours, you'll want proper home insurances. You'll need a household insurance and a home insurance. The latter is often made mandatory by your mortgage lender. 
Step 10: sign the deeds at the notary
Last but definitely not least: closing day, the day you become the legal owner of your new house. This day the notary will transfer the ownership of the house to you and pay the seller. First you'll inspect the house one last time to check its condition. Then you'll sign two notarial deeds: the transfer deed of the house and the mortgage deed. Congratulations, now you're a homeowner!
Buying a house in the Netherlands: let's get started!
Good, you know the ten ultimate steps of buying a house in the Netherlands. Let's get started with step 1: set your budget. Make a free appointment with a mortgage advisor or sign up for our housing webinar 'how to buy a house in the Netherlands'. We'll explain the house buying process in detail and give you smart tips to improve your chances at the Dutch housing market.