Buying a house in Utrecht
Buying a house in Utrecht
Where to live in Utrecht and how to buy a house at the local housing market?
To 'expat mortgages'
Are you planning to buy a house in Utrecht city or region? Both Utrecht city and its province are vibrant and internationally orientated. It's one of the most popular places to live in the Netherlands and it has a large expat community. However, when you're quite new to a country it can be hard to decide where to buy a house. And once you'll know where you want to live, you have to actually purchase a house, which can be quite challenging at the housing market in Utrecht. In this article we'll tell you about the amazing areas in Utrecht region and how you succeed in buying a house in Utrecht.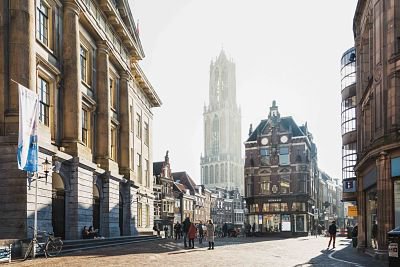 Determine your budget to buy a house in Utrecht
Before you start your search to buy a house in Utrecht it's wise to determine your budget. Explore your Dutch mortgage options: what's the maximum mortgage you can borrow? How much can and do you want to spend on a property? We're happy to help you find out! 
We're a mortgage advisor in Utrecht with a lot of experience in expat mortgages. We can also give you information about the local housing market. Need help? Please book a free appointment for tailored advice to find out in which price range you can look for a house. This will help you pick the right location to buy a house in Utrecht.

Prepare yourself for the housing market
You can find houses for sale in the Utrecht area via house hunting websites like Funda, Jaap and HuizenZoeker. Due to Utrecht's popularity and housing shortage, the local housing market is tight and house prices are high. This makes house hunting in Utrecht a complicated process, especially as an expat. To help you get started and to improve your chances of buying a house, we organise a monthly webinar 'how to buy a house in the Netherlands'. 

Buying a house in Utrecht City
Utrecht (city) is the capital of Utrecht province. It's the fourth largest city in the Netherlands, located in the middle of the country, well-connected to the Dutch railroad network and important highways. It has a beautiful historic centre and it's close to the countryside. 
Utrecht has all the big city amenities yet it's relatively small in size, so you can navigate the whole city centre on foot. Some of the highlights are it's picturesque canal wharfs, old squares and iconic buildings like the Dom tower. But it's not just history you find in Utrecht. The city has a vibrant, modern atmosphere. It has the biggest university in the Netherlands, a huge selection of bars, cafes and restaurants, craft shops and a bursting cultural agenda. 

Where to buy a house in Utrecht city
If you want to buy a house in Utrecht you can choose between a variety of areas with very different characteristics. 
City centre: one of Utrecht's most popular neighbourhoods, in the middle of it's historic and vibrant centre. Houses can be very expensive and are hard to find.
Utrecht Noordoost (northeast): a very popular area with different neighbourhoods like Vogelenbuurt, Tuindorp and Wittevrouwen. It's close to the city centre and favoured amongst students and young families. With both new and historic houses from the 1930s, quiet streets and lots of coffee bars and restaurants. It's less expensive than the centre, but you still need a pretty decent budget to buy a house in Utrecht Noordoost. 
Utrecht Oost (East): Utrecht's most high-class area which is located between the centre and Utrecht Science Park. In it's neighbourhoods Wilhelminapark and Rijnsweerd you find monumental houses, spacious lanes and a lot of green.
Utrecht West: another popular area to buy a house is Oog in Al in Utrecht West. This part is still close to the city, quiet yet lively and great for families.
Utrecht Zuid (South): neighbourhoods like Tolsteeg, Hoograven, Rivierenwijk and Lunetten are upcoming, with unique cafes, bars and shops. Houses are still reasonably priced and are filled with expats, immigrants and young families. 
Kanaleneiland and Overvecht: if you're on a budget, Kanaleneiland, Transwijk or Overvecht might be the best area to buy a house. These neighbourhoods aren't pretty, but they offer low-priced housing. 
Leidsche Rijn: a large, new neighbourhood with its own shopping centre and train station. It's a quiet suburb that's very agreeable to families. Compared to other areas of Utrecht it offers large properties for an affordable price.
Buying a house in Utrecht region
Utrecht city might be a wonderful place, so is the province. If you consider buying a house in Utrecht Region, you have a lot of options. Utrecht region exists out of 26 beautiful cities and towns, each with its own characteristics and selling points. In the east there's a national park with a range of hills and large lakes, the Utrechtse Heuvelrug, which is popular for recreation. 
Where to buy a house in Utrecht area
Where to begin your house hunt in Utrecht's 26 municipalities? We'll give you an overview of the most popular places to buy a house. 
Amersfoort: the second-largest city in the Utrecht province and was pronounced the best 100.000+ city to live in of the Netherlands. It has a cosy, historical centre and a relaxed atmosphere. Amersfoort offers better value for money than buying a house in Utrecht city.
Houten: a new, cycle-friendly community with lots of green in which you can find family homes with large gardens and plenty of space. It grew expensively in the last 40 years but still has the old village centre. Compared to Utrecht city and other towns in the area, houses are reasonably priced in Houten.
Nieuwegein: a relatively new city close to Utrecht which offers affordable housing for families. For entertainment you can go to Utrecht, easily reachable by tram or bus. In Nieuwegein you can purchase properties with the lowest average square metre price in Utrecht region. This makes it a great place for young expat families.
De Bilt: a town that's very close to Utrecht city centre, Utrecht Science Park and forests. It has an ideal location for internationals who are looking for peace and quiet and also want to be able to cycle into Utrecht. It has the best of both worlds! However, buying a house in this part of Utrecht comes with a price tag, because houses in De Bilt have the highest average square metre price of the province.
Stichtse Vecht: an alluring area between Amsterdam and Utrecht that's close to the Loosdrechtse Plassen, five connected lakes which are great for recreation and water sports. This part of Utrecht region is easily accessible by car, train or bus.  
Zeist: a beautiful town that has a village ambience yet offers city amenities. It's near the Utrechtse Heuvelrug and you can easily access some very beautiful forests. It has a train station and busses to Utrecht go on a regular basis. Houses aren't cheap but buying a house is more affordable than in the most popular neighbourhoods of Utrecht city. 
Woerden: a charming historic town in the countryside with a wide variety of facilities. Due to its own train station and connection to the important highways all the important cities in the Netherlands can be easily reached. Buying a house in Woerden has been agreeable to many the last few years, so house prices have increased extensively. 
Bunnik: a beautiful and quiet town that's close to Utrecht Science Park, with lots of green and close to nature. This makes it a perfect place for expats with a family who work close to the Science Park. However, buying a house in Bunnik, so close to Utrecht city, is pricey. 
Buying a house in Utrecht: let's get started!
Still no clue where exactly in Utrecht you would like to buy a house? It's a very personal decision and you can only find out by exploring different areas. Don't wait any longer and get on your bike!
And remember, a good preparation strongly increases your chances of actually buying a house in Utrecht. So sign up for our housing webinar or book a free appointment with one of our mortgage advisors in Utrecht. We're happy to help you buy your dream home in Utrecht.